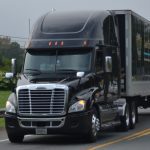 June 9, 2014 10:37 am
2 Comments
Being part of the trucking industry is one of the best ways to earn a living, see the country, and help move America forward. Without truck drivers, our country wouldn't have the supplies they need for everyday living. Whether you're a current driver or looking to make the move, Smith Transport has put together ten quick tips about trucking you can use to make being a part of this important, rewarding, and exciting industry even better:
1. Learn How to Cook in your Truck
It's amazing how many great meals you can make with only a small microwave, a plug-in cooler, and a crock-pot. There's no need to spend extra money on restaurant food when you can make healthier and tastier meals right inside your truck. One of the tips about trucking that some drivers forget involves eating well on the road, but those that remember to do so enjoy an improved quality of life.
2. Move It or Lose It
If you are young and feeling good most of the time, it could be easy to think that you don't need exercise, but it is one of the tips about trucking than leads to a long and productive career as a truck driver. Get out for at least a half hour walk every day, or break it up into two shorter walks.
3. Be Punctual
The trucking industry is all about timing, and the best truck drivers are aware of this! One of the most helpful tips about trucking is to plan ahead when going to a new area. Talk to other drivers or your company's support staff to find out more about the area and possible delays.
4. Respect the Dispatcher
Your dispatchers have the ability to get you the best loads and more mileage, and they can teach you many tips about trucking. Work hard to keep them happy and maintain a respectful work relationship.
5. Be Aware of Your Surroundings
Nothing will ruin your day or stall your career like accidents. Take the extra time to check behind you before backing up, make sure that you have the proper space for turns, and stay aware of your surroundings at all times—you should always keep these safety tips in mind. Smith Transport is committed to safety at every turn, and we can't stress it enough!
6. Never Turn Down a Load
This is one of the key tips about trucking. If you refuse a trip, you could miss out on many opportunities, and your dispatcher might start looking to other drivers before you. If you want to be "go-getter" driver in your career, strive to build up a positive reputation and you will be rewarded.
7. Double Check Your Trailer
You can be sure that there's no worse feeling than getting to your destination with the wrong load. You don't want to make that call, so of all the tips about trucking, this one's important: be sure you have the correct load.
8. Get to Know Your Fellow Drivers
Whether they are in your company or folks you meet on the road, other drivers can help you learn the ropes and offer even more tips about truck driving. Get to know some of the people out there who have been driving for a long time and can show you the way.
9. Stay Close to Friends and Family
In the past, drivers weren't able to frequently stay in touch with family and friends. Now with Skype, FaceTime, and good old-fashioned cell phones, you don't have to seem so far away. If drivers who have found a way to balance home life and success in the business could offer tips about trucking, this is one of the most valuable.
10. Enjoy the Drive!
From the seat of your truck you have a bird's eye view of the entire country. Always remember what a significant job you have, and how many people would love to be able to see the country while making a great living at the same time. A happy attitude makes a happy driver!
Interested in joining this exciting industry and driving for Smith Transport?
We would love for you to apply! When applying to drive for Smith Transport, you can choose from a number of open positions where we offer great pay and benefits packages. Smith Transport is a trucking company unlike any other. We treat our employees like family members and take pride in taking good care of everyone. If you're looking for a career that not only pays well, but is also enjoyable, drive for Smith Transport!
APPLY HERE or call 866-265-3718. Don't forget to like us on Facebook!
2 Responses