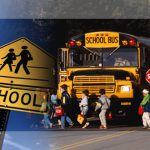 September 4, 2014 8:11 am
Comment
Any driver can tell you that the most precious cargo transported from one location to the next is our nation's school children. Professional school bus drivers have a great responsibility and must go through a skills training program to learn important school bus safety. With school starting back up and heavier vehicle traffic this time of year, Smith Transport thought it would be helpful to emphasize the importance of school bus safety. Whether you're a school bus driver, professional truck driver, average commuter or a parent, knowing and understanding school bus safety is insightful for all.
School bus drivers: For your safety as well as the safety of the children on your bus, take a look at these tips from Smith Transport:
Follow basic driving safety guidelines at all times. These include buckling your seatbelt, using your turn signals when necessary, avoiding distractions behind the wheel, allowing plenty of distance between yourself and the vehicles in front of you, knowing where your blind spots are, maintaining safe speeds, and paying attention to road signs that alert drivers to other laws, rules, and regulations.
Before every bus route, do a pre-trip inspection to check for any mechanical issues.
Always be sure that students are aware of bus regulations by establishing a set of daily safety rules: No standing while the bus is moving; No fighting; No distracting the driver; etc. Click here for the National Safety Council's School Bus Safety Rules.
Provide students and their parents with information about emergency school bus procedures.
Make sure that children departing the bus are in a safe location before deactivating safety lights and moving the bus.
At every stop in your route, make sure all surrounding traffic has come to a complete stop and streets are clear.
Use extreme caution when approaching a railroad crossing. Click here to see railroad crossing safety tips from Operation Lifesaver, Inc.
In the event of an emergency, act quickly and remain calm.
After your final route stop, do a post-trip inspection. No child should ever be left on a bus alone.
Be professional, dependable and reliable at all times.
Be firm with students while maintaining a pleasant and positive attitude. You will be rewarded with respect.
You can also share school bus safety tips with parents:
A child should never run after a school bus once it has departed from the bus stop.
A child should never cross the street from behind the school bus.
If a child forgot an item on the bus, they should not go back for it. If the child has dropped something outside the bus, they should not retrieve it until after the bus has moved on.
A child should arrive at the bus stop a few minutes early. Children who are late arriving can cause safety issues for others.
A school bus is designed with safety in mind. Did you know…?
It's designed to be safer than other passenger vehicles for avoiding crashes and preventing injury.
It has been proven that a school bus is the safest mode of transportation for moving children to and from school.
School buses add to safety figures by keeping an estimated 17 million cars off the road every day.
Children are the #1 priority in any situation. Keep these school bus safety tips in mind and share with other drivers and parents. When we follow set rules and practice safe driving, we all become better drivers and help decrease vehicle accidents.
_______________________________
Do you have your CDL and want to experience an exciting and rewarding truck driving career? Do you want to be part of an elite fleet and drive equipment that is second to none? Would you like to develop personal relationships with colleagues rather than being "just a number"? Smith Transport may just be the perfect home for your talents as a professional driver!
Life as a driver for Smith Transport offers many unique advantages. If you're interested in driving for Smith, click or call:
Click or call: