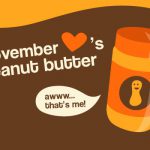 November 10, 2014 2:10 pm
Comment
Did you know November is National Peanut Butter Lovers Month? This filling, delicious and nutritious food is easily accessible at convenience stores and fuel stations. It's expensive, easy to store and has a long shelf life. These factors make it the perfect ingredient for OTR truck drivers!
Are you nutty for peanut butter? Whether you're a creamy or crunchy kind of guy or gal, there are countless ways to enjoy this treat. In fact, during November, Americans will celebrate by eating more than 65 million pounds of peanut butter!
"Spread your love" and take a look at PB's health benefits, and Smith Transport's quick and easy recipes:
The Benefits of Peanut Butter
It helps maintain your weight – Calling peanut butter a diet food, with roughly 180 calories per serving, may seem counterintuitive. But it has a good combo of fiber and protein that keeps you feeling full longer, so you eat less overall. Plus, there's nothing more indulgent than licking peanut butter off a spoon–and indulgence (in moderation) helps dieters fight cravings and stay on track.
It's packed with nutrition – A serving of peanut butter packs a powerful punch of vitamin E, magnesium, potassium, and vitamin B6. Research shows that eating peanuts can decrease your risk of heart disease, diabetes, and other chronic health conditions.
It's got the good fat – Peanut butter is chock-full of heart-healthy monounsaturated fat. So while it contains fat, it's the good kind!
5 Peanut Butter Recipes for Truck Drivers
1.  Peanut Butter Banana Quesadillas
Ingredients:
1-2 whole-wheat tortillas
1 banana
1 tbsp. peanut butter
George Foreman grill (optional)
Directions:
Mash the banana into a bowl. Mix peanut butter with the mashed banana. Spread the banana-butter mixture onto a whole-wheat tortilla, and put on the grill until those nice grill marks appear.
*Fun twist: Slice the tortilla to make little bite size tortilla coins. You can also add more ingredients like honey, cinnamon or fruit. Feel free to get creative with this one!
2.  Peanut Butter Energy Bites 
Ingredients:
3/4 cup peanut butter
3/4 cup oats
1/2 tsp. vanilla extract
1 tbsp. honey
Directions:
Add peanut butter, rolled oats, vanilla extract, and honey to a large bowl and mix together. Roll the mixture into balls and set on a tray or plate. Refrigerate for one hour, then enjoy.
These bites have 150 calories and 5 grams of protein, making them a smart option for when you need a little energy boost on the road.
3.  Toasted PB&J
Ingredients:
English muffin or bagel
Peanut butter
Apple slices
Directions:
Instead of a traditional PB&J sandwich, switch it up by spreading peanut butter on an English muffin or bagel. Top it with fresh apple slices. The fruit contains less added sugar than jelly and provides a nice crunch to contrast the creaminess.
This is a great breakfast option and is easy to make in a truck since all the ingredients can be kept fresh from inside a big rig.
4.  Peanut Butter Popcorn
Ingredients:
1/2 cup light corn syrup
1/2 cup sugar
1/2 cup peanut butter
1 tsp. vanilla
6-8 cups popped popcorn
Directions:
In small pan, melt together corn syrup and sugar. Add peanut butter and melt (be careful not to boil mixture too much; the peanut butter will start to burn.) Remove from heat and stir in vanilla. Stir mixture over popcorn.
5.  No-Bake Rice Krispies Peanut Butter Granola Bars
Ingredients:
2 cups Rice Krispies
1 1/2 cups oats
1/2 cup brown sugar
1/2 cup light corn syrup or honey
1/2 cup peanut butter
1 tsp. vanilla
1/2 cup raisins
1/3 cup chocolate chips
Directions:
Grease 11 x 7-inch baking dish.
In a large bowl, combine Rice Krispies, oats and raisins.
In a saucepan, stir corn syrup (or honey) and brown sugar until it comes to a boil.
Immediately remove from heat and stir in peanut butter and vanilla until well combined. Pour over the dry ingredients in the bowl; mix to combine.
Mix in chocolate chips. (Tip: to prevent melting, refrigerate or freeze choc. chips before mixing in)
Transfer the mixture into prepared baking dish. Push evenly down into the pan.
Slice into desired size bars.
Chill until firm.
_________________________________
Peanut butter is an inexpensive, versatile ingredient that is perfect for truck drivers looking to make an easy and satisfying meal, snack or dessert. Celebrate National Peanut Butter Lovers Month and try out these recipes from Smith!
Ready to begin your truck driving career with Smith Transport? Visit smithdrivers.com and contact a recruiter today!