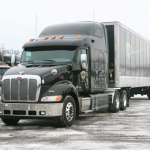 November 13, 2014 4:57 pm
Comment
Whether you're new to truck driving or an experienced driver, there's one thing most all drivers agree on: it's great to ride in style.
When truck drivers are out enjoying their work day on the road, helping move America forward and providing the goods we need, they want to be comfortable, safe, and feel great knowing they have access to top-of-the-line equipment. Smith Transport is constantly looking at ways to improve the lifestyle on the road for our drivers, and this includes first-rate equipment. Our tractors consist of Peterbilts and Freightliners, and we don't scrimp on the chrome. You'll be amazed by these trucks!
The Peterbilt line embodies ideals of innovation, style and value. Every truck is designed to maximize profitability, driver comfort and safety. Whether it's fuel-efficient operation, outstanding resale value, maximum weight savings, day-to-day performance or simply the pride of owning a Peterbilt, these tractors deliver.
What we love about these trucks is that they're built with durable construction and practical design. The equipment is meant to endure the most challenging work environments and provide lasting value. The entire lineup brings quality, reliability and performance to the table (only the best for our drivers!)
Not only do these trucks provide top-notch performance, they're eco-friendly. Whether it's alternative fuel platforms like liquid or compressed natural gas or electric hybrid engines, these environmentally-friendly tractors are made to reduce emissions.
It's clear why Smith drivers love being behind the wheel of a Peterbilt.
Freightliners are also extraordinary pieces of equipment. With excellent designs, these trucks are undoubtedly built with efficiency, durability, maneuverability, and longevity in mind. Reliability–combined with the latest fuel economy technology–allows truck drivers to revolutionize the way they do their job. Easy maintenance and low costs per mile are just a few other benefits that make Freightliner trucks a seriously smart investment.
Reducing fuel consumption and saving money is always top of mind in the transportation industry. With innovative, efficient technologies and alternative fuels, Freightliners offer increased fuel economy and lower emissions. These trucks aren't just better for the environment; they're better for business.
In addition to being friendly to the environment, Freightliners are built to last. The equipment begins with a strong foundation, and has the power and durability to get the job done right all day, every day. These trucks mean business! At Smith Transport, we are proud to provide Freightliner trucks to our drivers.
If you're looking to join Smith Transport, we know these Peterbilts and Freightliners will excite you!
Ready to drive equipment that's second to none, be part of an Elite Fleet, and develop personal relationships with colleagues rather than being "just a number"? If so, Smith Transport is the perfect home for your talents as a professional driver. Driving for Smith means having job security, respect and choices.
Visit smithdrivers.com and contact a recruiter today!